Obituary for Shirley Faith Christensen (Lemke)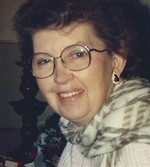 Shirley Faith Christensen, 83 of La Crosse, died on Saturday June 9, 2018 at her home. She was born on June 10, 1934 in La Crosse to Edward and Bonnie (Pepper) Lemke and grew up living on the USDA Experimental Farm on Grand Dad's Bluff. While working a summer in Kenosha, she met and then married Arnold "Bill" Christensen, Jr. on May 19, 1956 at English Lutheran Church in La Crosse. Shirley worked for the La Crosse Hospital and then for Gundersen Lutheran until her retirement. Shirley and her husband enjoyed camping and traveling the world. She also enjoyed gardening and taking her family pictures. She was a long time member of English Lutheran Church and the church choir of which she was a member when they performed at Carnage Hall in New Your City. Shirley had many special people in her life, including her friends Charlotte and Bill Schroeder and Madonna and Lawrence Nies.

Shirley is survived by her 2 children: Kathy (David) Winter of Madison, WI and Robert Christensen of Aurora, CO; 3 grandchildren: Brandy (Cory) Hopper and their sons Logan and Dylan, Shalako (Jeremy) Milsza and their daughter Jaelyn, and Aerial (Alex) Schultz; a sister Sharon Lemke of Beaver Dam; and a cousin Bonnie Jean "BJ" Massoth.

Shirley was preceded in death by her parents, husband Bill, daughter-in-law Candie and an infant sister Rosemary Lemke.

A memorial service will be held at 11:00 am on Thursday, June 14, 2018, at English Lutheran Church in La Crosse. Rev. Roger Grow will officiate. Entombment will follow at the Chapel of Devotion Mausoleum in Woodlawn Cemetery. Friends may call at the church from 10:00 am until the time of the service. Online condolences may be left at www.fossumfuneralhome.com. The Fossum Funeral and Cremation Service of Onalaska is assisting the with the arrangements.

In Lieu of flowers the family requests that memorials be given to English Lutheran Church Choir, or to the American Diabetes Association.

Order Flowers