Obituary for Dale Euguene Armstrong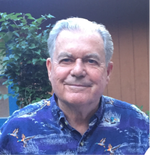 Dale passed peacefully at the age of 78 in the presence of his immediate family at Valley Regional Hospital in Brownsville, Texas. Dale and his wife, Laurel were in their 22nd year of wintering on South Padre Island Texas. Cause of death was complications due to pneumonia.

Dale grew up in Hopkins, Minnesota and attended Gustavus College. After studying Chemistry, he became a science teacher and worked 35 years dedicating his life to enriching his students in Waseca Minnesota. He loved teaching. Since Dale retired 22 years ago, he and Laurel have spent time between wintering in South Padre Island Texas, summer fun at the family cabin in Northern Minnesota, and their home in Victory Wisconsin. Their 54 years of dedication to each other along with faith, family and children, is the legacy they pass on as the family expands across Minnesota, Wisconsin and California.

He was a father and friend of many. He loved and introduced his children to the outdoors and to the tangible things of life. He helped his father build the cabin on Big Turtle Lake in Northern Minnesota. He raised his family in the country in Waseca Minnesota. He loved gardening and spending the summers vacationing with his family. Dale lived life to the fullest and did everything with gusto even up to the end of this life. He had brought fishing gear, a tennis racket and camping gear for tenting out west for the month of March. His energy and drive for life will always be an inspiration to everyone.

He is survived by his wife Laurel, children Jim (Cathy) Armstrong, Sally (Jose) Segura & Susan (Jeffery) Poulin, sister Bonnie (Winston) Weaver and six grandchildren Lydia (24), Samuel (22), Benjamin (20), Jesse (18), Jose (8) & Sebastian (4). He was preceded in death by his parents Sylvia and Vern Armstrong.

Funeral services will be held at 11:00 am on Friday, February 23, 2018 at the Connect Church in Onalaska, Wisconsin. Friends may call at the church on Friday from 10:00 am until the time of the service. Burial will be at a later date.

Order Flowers