Obituary for Alvina Clara Wera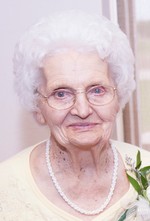 Alvina Clara Wera, 102, passed from this life from complications of the flu on Tuesday, March 13, 2018, in Norman, Okla. Alvina Clara Konter was born April 6, 1915, to Matthew and Anna (Bautch) Konter at home in Arcadia Township, Trempealeau County, Wisconsin. She was raised on the family farm in Fox Coulee, attended the country school there, and later graduated from Arcadia High School. Alvina married Bernard "Ben" Wera in 1935 at St. Aloysius Catholic Church in Arcadia. They raised three children: Anne, William, and Carol. During their life together, Alvina and Ben, working side by side, owned and operated several grocery stores in Winona, La Crescent, and La Crosse. From 1957 to 1984, they owned and operated the Ona Motel in Onalaska. Alvina enjoyed fishing with Ben, her children, and Grandma Konter. She was a skilled gardener and loved her flowers. She was a talented seamstress and knew her way around the kitchen. Her turkey dressing, potato pancakes, hunter's cookies, apple pies, and pineapple upside-down cake were outstanding.

In later years, Alvina was an active member of the Onalaska Lions Club and was a long-time volunteer at the Onalaska Care Center where she received its Volunteer of the Year award. She was a Bell Ringer for The Salvation Army for over twenty-three years. Alvina was a member of St. Patrick's Parish, Onalaska, and its Young at Heart group. Alvina lived with daughter, Carol and son-in-law, Pete, for the last four and half years in Blanchard, Okla.

Alvina is survived by her son Bill Wera, and wife, Mary Jane Scherdin, of Denver, Colorado, and daughter Carol Woods and husband, Pete, of Blanchard, Okla.; grandchildren: Bobby Woods and wife, Jane, Douglas Wera, Bryan Wera, Noreen Jurgensen and husband, Michael, and Brandi Woods-Littlejohn and husband, James; great-grandchildren: Grant Woods, Blake Woods, Jacque Wera, Logan Wera, Lee Ann Wera, Cheyenne Wera, Sebastian Wera, Stone Bennett Wera, Andreas Wolk, Jade Lewis, Anna Littlejohn, and Kamryn Littlejohn.

Alvina was preceded in death by her parents, her husband, Ben, in December 1993 and daughter, Anne, in May 1997.

Funeral services will be held at 11:00 am on Wednesday, March 21, 2018, at St. Patrick's Catholic Church in Onalaska. The Rev. William Kulas will officiate. Interment to follow at St. Mary's Catholic Cemetery in Winona, Minnesota. Friends may call at the Church from 10:00 am until the time of the service.
Special thanks is given to her wonderful caregivers and special people Danyelle Amoakuhene and Kathy Crowder.

Order Flowers